Harpers Bazaar
The latest runway trend this season is definitely going to be gingham. But before I get to it, I thought I'd give you guys a little lesson on what exactly is gingham and plaid....and checks. Are they all the same? When do we use plaid and when do we use gingham?
This picture pretty much sums up the difference. Yes, there is a difference in plaid and gingham. Plaid was originally coined to describe the fabric used in Scottish Tartans. The design should rightfully be called Tartan but in modern times, plaid seems to be the universally accepted term to describe such patterns. Gingham on the other hand, looks similar but is actually very different. If you look closely, it is basically horizontal and vertical lines criss crossing and each "check" that forms from this has to be the same size whereby plaids have different "check" sizes. Lastly, what are checks? Basically, you can still call both plaid and gingham checks too because they both consist of patterns that resembles the checks on a checkerboard. Though if you wanted to be specific, plaid/tartan and gingham is the correct term to use.
Gingham was the type cloth traditionally used for picnics and was very big during the 50s-60s. Here are some fashion icons from decades ago sporting the gingham back in the days.
Audrey Hepburn looks comfy in those gingham pants
Gingham was so hot back then in the late 50s, Brigitte Bardot got married in a gingham dress


Now back to present day. Here are some celebrities donning the gingham with a modern twist.
Chloe Moretz in a pretty pastel pink gingham dress
Sam Faiers (via Sugarscape.com) sporting the hot two-piece trend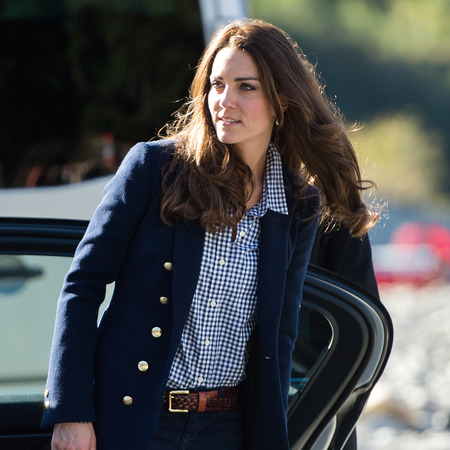 Of course, the Duchess of Cambridge is keeping it classy with a timeless gingham shirt paired with a navy blazer on her recent Royal Tour to Australia and New Zealand
On the contrary, Miley Cyrus is keeping it trashy with some obscenely high cut gingham bikini during her Bangerz tour
We reckon that Amanda Seyfried pulled off the gingham bikini way better than Miley'
Lastly, here is my favourite gingham streetstyle look by Chloe Ting of www.chloeting.com
Which one was your favourite?