Hello guys! I have just got back to watching Pretty Little Liars Season 3. As always, every time I watch it I feel so inspired in fashion, I feel like turning my wardrobe inside out and seeing what I could do with the things I have :) Here are a few favourite picks from Episode 8 to 13. Actually, only half of episode 13 cause my streaming site hates me and stopped halfway just when it was about to get excited on the Ghost Train! I shall wait patiently for my "supplier" to pass me the downloaded version :)
Hanna's awesome floral pants was love at first sight! Been wanting to get one for a few weeks now and I am still waiting for this trend to hit Malaysian shores..... Or maybe I'll just get them from our more developed neighbouring country ;)
Yellow dress with eyelet detailing. I have something similar in Beige from years ago...Don't you just love it when fashion makes its circle :)
Baroque design inspired dress. This looks so Versace and at one point people classify these designs as "boring" and "old". Well, not anymore! Edit: Found out this dress was from BCBG Maxazria.
When I saw Aria in this lovely white number, it was love at first sight! simple classy and very Chanel inspired. You can never go wrong with white and black. Can't wait to rock my version of a white dress soon!
This maxi dress attracted my attention because of it's unique front. I love how Aria can pull off edgy and girly at the same time.
An edgy peplum dress donned by Aria. Love the fact that she matched this with equally edgy bright orange heels (not pictured here).
Another peplum number on Aria. I LOVE PEPLUMS. They are the most flattering type of dress ever created. Hide big hips and short bodies cause it gives an illusion of a higher waist thus longer legs!
One of those rare occasions that I like what Spencer is wearing. Although Aria was the one who picked this outfit out for her...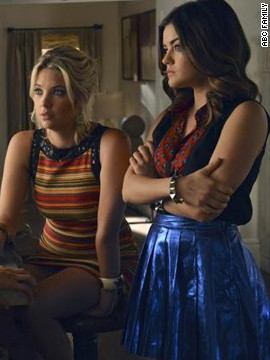 This photo screams crazy! If there is anyone who can rock a metallic blue skirt, it's Aria. This skirt is apparently from TOPSHOP. Oh and I also love Hanna's dress. The embellishment on the hems gives it more details. Okay, I am big on details lately cause they gives an outfit so much more character.
New Girl Cece sporting a gorgeous fushia and orange dress which was love at first sight. She paired it up with a chunky necklace and laced blazer giving it even more details! But somehow, it doesn't look too cluttered. This my friends, is what I call SKILL *learning*
Love this print on Spencer. I guess I still have a thing for animals on chiffon.
This caught my eye because.....I have a new top that looks ALMOST the same as this one! Only difference is that mine does not have a pocket and the buttons on mine end mid-way while hers goes all the way down. Fabric, colour and prints are the same! I am saving mine for Chinese New Year though cause its red/orange.
I believe I mentioned my love for maroon pants in my previous post. Also loved the combination of the white washed denim shirt and maroon jeans on Emily.
Last but not least, I thought Hanna's Halloween costume looks the best this year. She pulled off Marilyn Monroe pretty damn well!